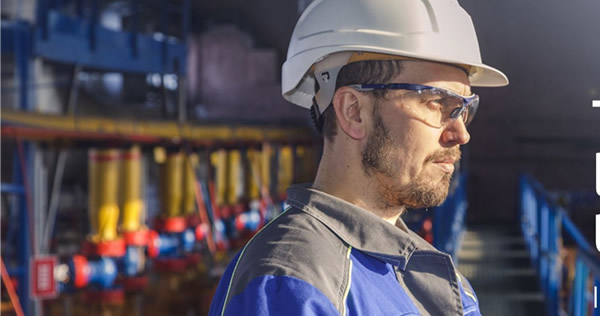 60th Annual General Meeting Of The Institute Of Refractories Engineers
The 2021 AGM for the Institute of Refractories Engineers is being postponed.
The Institute is going through a period of change which has resulted in the distribution of information being delayed.
---
The IRE is holding its 60th Annual General Meeting of the Institute of Refractories Engineers being held via Zoom at 9:00am GMT on Wednesday 17th November 2021. Due to the ongoing effects of Covid-19 General Council thought that it was best to conduct the AGM via Zoom. General Council apologise to Members who do not have this facility; please contact secretary@ireng.org if you have a problem. You can download the AGM agenda here.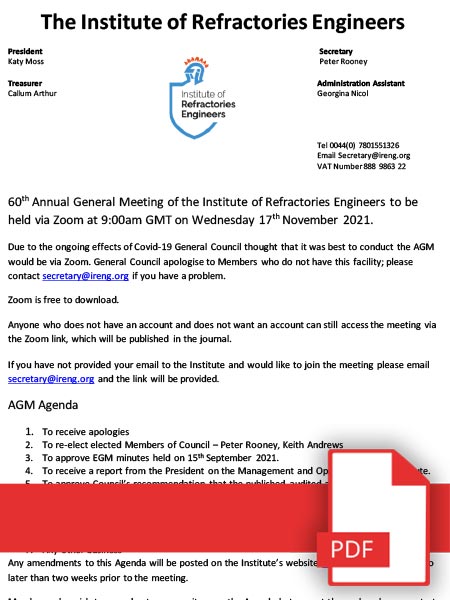 Zoom is free to download. Anyone who does not have an account and does not want an account can still access the meeting via the Zoom link, which will be published in the journal. If you have not provided your email to the Institute and would like to join the meeting please email secretary@ireng.org and the link will be provided.
---
AGM Agenda
1. To receive apologies
2. To re-elect elected Members of Council – Peter Rooney, Keith Andrews
3. To approve EGM minutes held on 15th September 2021.
4. To receive a report from the President on the Management and Operations of the Institute.
5. To approve Council's recommendation that the published audited accounts for period ending 31st December 2020 be accepted.
6. To approve Council's recommendation for 2022 membership prices.
a. 2022 prices- Full member ……………………………………..£83.00
Members <25 undergoing training …….£41.00
7. Any other business
Any amendments to this Agenda will be posted on the Institute's website www.ireng.org no later than two weeks prior to the meeting.
Members who wish to record votes on any item on the Agenda but cannot themselves be present at the Annual General Meeting, may arrange to vote by proxy by completing a 'proxy form' which is available on the website www.ireng.org, this needs to be submitted no later than 5pm GMT 15/11/21 and sending to secretary@ireng.org
Any member not attending the Annual General Meeting, and not arranging to vote by proxy, will be deemed to be in favour of all resolutions approved at the Annual General Meeting by the Members there present.