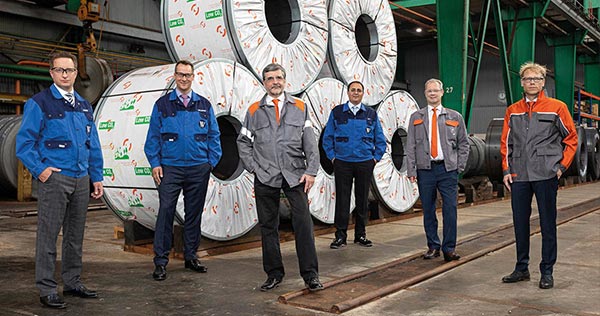 First CO2-reduced coils delivered by Salzgitter to Waelzholz
The first low-CO2 hot-rolled coils produced by Salzgitter AG have been delivered to the Waelzholz Group. Steel production via an electric furnace route reduces CO2 emissions in the specific application by 71% compared with the classic blast furnace route. As technology-oriented companies with high standards of quality and innovation, Salzgitter and Waelzholz entered into a cooperation for the production and further processing of low-CO2 strip steel at an early stage.
In addition to protecting the climate, low CO2 emissions in the manufacture of steel products are increasingly becoming an economic factor, as Friedrich Ellebrecht, Sales Manager Cold Roller at Salzgitter AG, and Andreas Reil, Sales Manager at Waelzholz, agree. Reil: "On the customer side, we are seeing a noticeable increase in demand for CO2-reduced steel materials. Salzgitter also recognized this trend at an early stage and has adapted to it with a first plant for low-CO2 steel."
A large proportion of the CO2 emissions from steel products are generated in the production of crude steel, which is why close cooperation with suppliers such as Salzgitter AG is an important strategic decision for cold-rollers such as Waelzholz when it comes to CO2 reduction. Ellebrecht: "We are the first steel manufacturer in Europe whose CO2 emissions in steel production have been verified and validated in the EAF process by an external certification company. In addition, we only use recycled steel materials in this process, so the raw materials also contribute to a low carbon footprint of the flat steel."
Real reduction in CO2 emissions
The first tons of green strip steel will be delivered to an internationally positioned steel processor after further processing at Waelzholz. "Many of our customers would like to offer products that are as climate-neutral as possible in the future. As a first step, they can include this low-CO2 material in their serial production," says Reil. And Ellebrecht adds: "For a large number of customers and end-users, it is important to receive a real CO2-reduced product, rather than one reduced via compensation services. With our new production route, we offer precisely this real reduction in climate gas emissions." In the long term, Salzgitter AG plans to realize CO2 reductions of up to 95% with the help of green hydrogen.
"With the Salzgitter cooperation, we are starting a promising test phase. We ourselves are equipping an electric strip furnace and a bell annealer with H2-ready burners in order to be able to run tests with climate-friendly hydrogen this year," says Purchasing Manager Marcus Englberger, explaining another aspect of Waelzholz's CO2 reduction strategy.
The cold roller is already on the home stretch with an elaborate meter structure in order to be able to precisely allocate energy consumption to individual products or customer orders. Certification is planned for the fall of this year. Martin Scharf, team leader of the cold-rolling mill at Salzgitter Flachstahl, commented: "We are delighted about the cooperation with Waelzholz, which will bring our low-CO2 product, processed into cold-rolled strip steel, directly to the market."