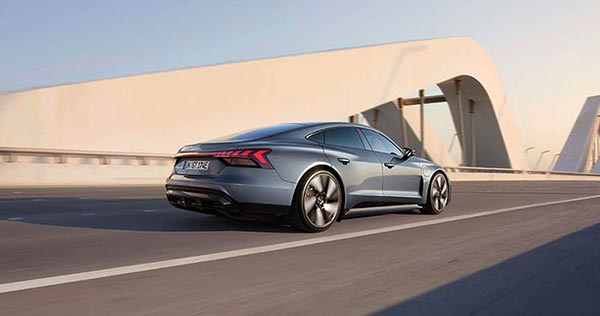 How Audi & Alvance Aluminium Duffel Are Championing Lightweight Materials
The Audi e-tron GT is its third fully electric car since the e-tron SUV and the e-tron Sportback. Large areas of the body are constructed from aluminium and ultra-high-strength steel. Alvance Aluminium Duffel BV supplies the aluminium for the side panels and sealing ports with the same passion for detail, precision and quality, and with a shared drive for sustainability.
The lightweight body of the four-door Gran Turismo is manufactured using a multi-material construction, with the outer skin made entirely of aluminium. This light-weighting approach allows for the car as a whole to be designed with low-weight components, enhancing its driving performance as well as lowering its environmental footprint.
"Aluminium is taking on an ever-growing role in electric vehicles. It is both a light and very strong material and very flexible to work with. All of these properties mean aluminium perfectly fits the design, performance and functionality requirements of the Audi e-tron GT," says Jürgen Bieser, Global Key Account Manager Automotive of Alvance Aluminium Duffel BV.
Audi is pressing forward consistently with its electrification offensive. Its objective is to electrify the entire model range through 2025, with around 30 electrified models. But it is not enough just to go electric: the entire car must be more sustainable.
That's why the designers of the Audi e-tron GT have deliberately chosen to focus on sustainable materials, from the smallest details of the interior to the exterior. Here as well, aluminium is an excellent choice. It is one of the most recycled – and most recyclable – materials on the market. In the future all the aluminium used for manufacturing the Audi e-tron GT can be recycled at the end of life of the car.
For Audi, the entire life cycle of its models matters, starting from the supply chain and production, through utilisation right up to recycling.
Alvance Aluminium Duffel is part of Audi's 'Aluminium Closed-Loop'. Under this program, remnants of the aluminium sheets processed in Audi factories are immediately returned to Alvance Aluminium Duffel BV to be recycled into new sheets of the same high quality. Audi in turn uses the newly recycled aluminium sheets in its production processes.
In addition the operations at Alvance Aluminium Duffel are certified against the Aluminium Stewardship Initiative (ASI) Chain of Custody standard. This certificate ensures that not only the operations at the facility in Duffel meet the ASI standards, but also that the aluminium material has been sourced and produced in a responsible and sustainable way across the entire supply chain, from the extraction of bauxite up to the finished product. Since Audi is also certified against the ASI Chain of Custody, it is possible to keep this certified sustainable material in the loop.