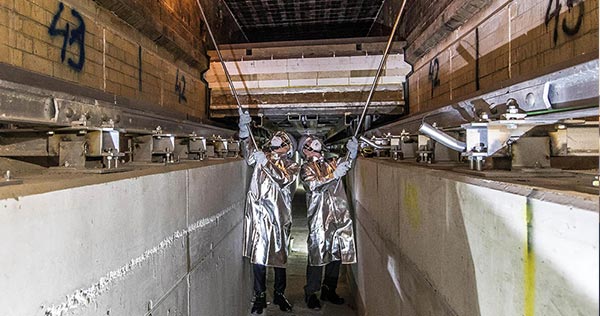 RHI Magnesita Inaugurates New Tunnel Kiln for Refractory Production at Radenthein
The completion of the new tunnel kiln at the Radenthein plant in Austria is another stage in the process of establishing the most modern production facility in the refractory industry. With an operating temperature of 1800°C and an uninterrupted service life of several decades, the tunnel kiln represents the heart of refractory production. RHI Magnesita is also investing 4.5 million euros in new presses that, thanks to the high performance of the new tunnel kiln, will increase the plant's production capacities by 30%.
The world market leader in refractory products, systems and services RHI Magnesita is investing around 50 million euros in the modernisation, automation and all-encompassing digitisation of its plant in Radenthein. An additional 24.7 million euros are being invested in the construction of new infrastructure – centered around a new, powerful tunnel kiln in which products only acquire their refractory properties after a firing process lasting several days at 1800°C.
The comprehensive expansion and digitisation of the Radenthein plant is a clear strategic decision in favour of Austria as a business location. From this site, the steel, energy, chemical and glass industries in Europe will continue to be reliably supplied with products from RHI Magnesita in the future. Dr Herbert Cordt, Chairman RHI Magnesita and Governor Peter Kaiser inaugurated the tunnel oven together in a firing ceremony.
"RHI Magnesita is the technology leader of the refractory industry. As driver of innovation, we are investing around 50 million euros in the plant in Radenthein. With the firing of the tunnel kiln as another major milestone, we are taking a significant step closer to the most modern refractory plant in Europe", said Herbert Cordt, Chairman RHI Magnesita, at the inauguration of the tunnel kiln.
Governor Peter Kaiser underlines the importance of RHI Magnesita for the region: "As an important factor in innovation and the economy, the RHI Magnesita plant in Radenthein not only makes a major contribution to the province of Carinthia, but is also fulfilling its major responsibilities – as an employer, a training centre for new high-tech professions, and as a firmly anchored member of the community," Governor Kaiser emphasised. "I am delighted that investments are still being made at the Radenthein location and that a sustainable showcase project in digitisation, which is important for Austrian industry, has been built in the heart of Carinthia."
According to Dr Gerd Schubert, Chief Operations Officer, RHI Magnesita, the new tunnel kiln and the additional investment of 4.5 million euros in new presses will increase the plant's production capacity by 30%.
"The new tunnel kiln not only enables our technology experts in the refractory sector to increase efficiency and consequently increase production capacities, but also makes a significant contribution to the specialisation of our digital flagship plant in Radenthein," Dr Schubert announced.
"The tunnel kiln is a special firing unit that can burn high-quality, high-tech refractory products at up to 1800°C, allowing RHI Magnesita to meet customer requirements in a more targeted manner with even higher quality."