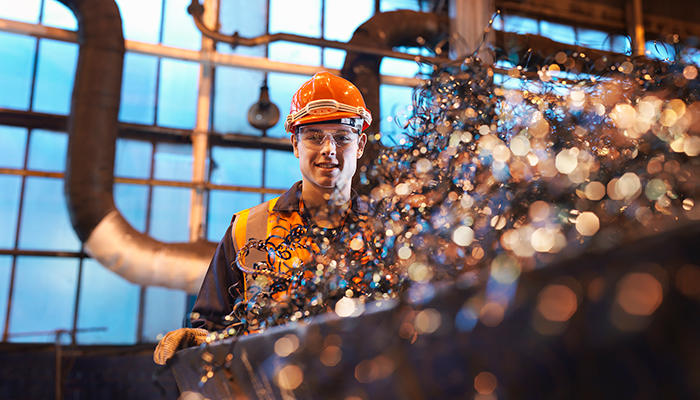 Sheffield Forgemasters powers up with recycling
Sheffield Forgemasters has employed recycling options to divert all of its process waste from landfill and has so far attained a huge 99.5 per cent rate of diversion.
The company only uses recycled scrap steel in the melting process for liquid steel and ingots, which go on to form its unique components for defence, power generation and civil nuclear applications – with all waste steel material created at supplier or third party sites also collected and returned to site to re-enter the steel supply.
Any waste materials which cannot be returned to the steel supply are collected and distributed to carefully selected contractors for further recycling with steel slag used in road surfacing aggregate, and dust from the production process sent first for zinc extraction and then on for use in aggregates.
Andrew Segrott, Group Environment Manager at Sheffield Forgemasters International, said: "To avoid the use of metal ores and raw materials extracted from the earth in our steel production, we adopt a 'Green Steel' approach.
"This means sourcing scrap steel left over from other, third-party manufacturing companies and processes and maximising on everything that can be recycled through our steel making process, combined with a site-wide approach to recycle 100 per cent of our process waste rather than sending anything to landfill.
"We have set an ambitious target, but are regularly managing to recycle more than 99.5 per cent of waste and on occasional months, have met our 100 per cent target."
The company's 64-acre Brightside Lane site is also supplied with renewable heat from the Sheffield District Heating Network (DHN), saving approximately 10,000 MWh of gas per year. DHN energy is generated in a biomass-fuelled combined heat and power plant, from waste food and wood.
Andy added: "Although Sheffield Forgemasters is reliant on high energy use to power its plant, the company is firmly committed to improving green efficiencies across its operations.
"In recent years we have made significant energy saving investments in our site and equipment from simple measures such as LED lighting to an investment of £2m in our Electric Arc Furnace to make it more energy efficient.
"Our gas burners for furnaces have all been replaced with highly efficient burners, and we continually adopt improvements to insulation and refractory materials so that we contain as much heat as possible.
"We have installed water meters throughout the site, allowing us to track and reduce usage. This has led to a reduction in the millions of litres. A Ureco waste-water treatment system adopted throughout the site toilets, further reduces water usage by 16 million litres per year. Where possible our plant equipment is now cooled with recirculated water, also reducing demand on the city water supply."
Sheffield Forgemasters also operates a stringent policy to encourage and protect wildlife across the site, with dedicated bird and bat boxes and riparian ownership to maintain and protect the River Don and attached wildlife habitats where it flows through the site.